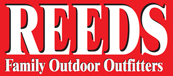 Reed's Family Outdoor Outfitters is one of the oldest, most renown outdoor outfitters in the nation. Family owned, customer driven for 50 years. They offer a complete hunting department with firearms, ammunition, scopes, binoculars and spotting scopes, duck & goose decoys, tree stands, duck blinds, electronic dog training collars, and containment systems.
Over 7,000 fishing rods and 356 models of fishing reels in stock as well as fishing line, tackle boxes, fish release systems, baits, lures, tackle, maps, etc.
Reed's boasts one of the largest Hunting & Fishing Electronics department known. Featuring handheld or permanent GPS, graphs, sounders, radar, flashers, fish finders, sonar, and radios. Do you need trolling motors, positioning motors, or downrigger equipment? Reed's prices will not be beat.
Outdoor gear includes waterproof breathable rain gear, flotation coats and vests, camouflage parkas & clothing, hiking boots, insulated hunting boots, PACs, and waders.
Reed's is tucked away in the quaint Northwoods community of Walker, Minnesota, on the shores of one of America's top walleye lakes, Beautiful Leech Lake. Located an hour north of In-Fisherman headquarters in Brainerd, cutting-edge gear for hunters and anglers is their specialty.
If you are searching for the ultimate outdoors outfitter for any outdoor activity: fishing, hiking, camping, hunting, check our online catalog, we are your one-stop shopping headquarters. If you are getting ready for a hunting or fishing adventure in the Northwoods, Canada, Alaska or anywhere from Washington to the Florida Keys, let Reed's proven selection and great prices help you.