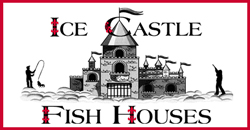 Ice Castle Fish Houses Manufacturing, based in Minnesota since 1993, is the largest manufacturer of premium Portable Ice Fish Houses in the state.
They have come full throttle, starting out their business in a small shop,becoming what they are today, the premier manufacturer of quality Ice Fish Houses.
They custom design our product to accommodate your particular fishing lifestyle by offering you numerous Fish House options. Is it Satellite TV you want or perhaps that large rear Bay window? You can convert our basic Ice Fishing shack into a luxury Ice Fish House home and all have maintenance free Aluminum siding.
Better yet, your road licensed Ice Fish House, featuring deluxe double pulley suspension with retractable wheels can be used year round. Use as a Hunting shack in the fall or use as a trailer for hauling snowmobiles, four wheelers, motorcycles and other toys in the winter, spring and summer months.
Visit your nearest Ice Castle Fish House Dealer to view your new dream IceCastle Fish House or call to find your nearest dealer.
Toll Free 1-855-423-4687
Thank you Ice Castle Fish House for supporting the Minnesota State High School Clay Target League!